[If you haven't read this book, there are some spoilers in this post!]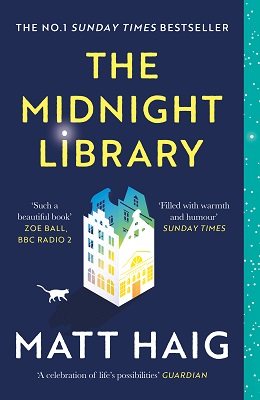 The Midnight Library has been such a joyful and warming read for me. If you are looking for a beautifully written story full of reassurances and hope then you should add this to your list.
For those who have not read The Midnight Library, the book is about a young woman, Nora, who is struggling and unhappy with her life. Her career, her finances, her relationships (in terms of friends, family and partners) are all not progressing as she had hoped and, ultimately, her life is lacking in love and fulfilment. Sadly, she decides that suicide is her only option left and so she enters The Midnight Library, a sort of halfway-house/'room' filled with all of the possibilities that her life could have been, or evolved to be, together with The Book of Regrets (fairly self-explanatory). The story explores some of the main choices that Nora regrets throughout her life, taking Nora to those lives that she would be living had she chosen differently. Ultimately, Nora learns that her current life is actually the one that will make her most happy, with the resounding messages behind the book being that you have all the tools in place at any time to live the life you want, and that the grass is not always greener.
We live in an increasingly fast-paced, immediate, and accessible world. It is difficult not to compare your own life to the idyllic little Instagram squares of nomadic travellers island-hopping around Australasia, or the perfectly dressed women brunching on a Tuesday in Mayfair. On the other hand, we live in a world filled with so many opportunities and options that we are also overwhelmed with choice, and it can be hard to make decisions without thinking 'what if'. This is why the book resonated so much with me. It is a gentle reminder that you and your life are enough, and what is important is having things in it that you love. It is also a message of perseverance and bravery, of not giving up when things feel too much and to embrace opportunities and challenges as they come rather than dwelling on regrets.
What also made me love the book so much is that it touches on so many complex topics in such a direct but gentle way that I think everyone can learn from. The catalyst of the story is suicide. In some of her lives, Nora's brother struggles with alcoholism, and, in one life, Nora's best friend dies suddenly and tragically. Some lives include deep family rifts, others leave Nora feeling like a failure. Nora suffers imposter syndrome in some of her lives, and depression and anxiety in others. Many of these topics are difficult to do justice to, given their complexity, and some can find them difficult to fully understand unless they struggle too. And yet, the way in which Haig delivers each of these topics is both educating and eye-opening for his reader.
The Midnight Library is an important book that leaves you feeling happy and lifted, all whilst discussing some very difficult issues. It reassures you that you are not alone in the struggles you face, and to embrace life no matter how scary it can be at times. It is well worth a read.