"Sustainable" is a real buzzword at the moment. Unfortunately though, the green-washing trend can make it difficult to figure out whether a brand truly cares about its production line and environmental impact.
Here are some of the independent brands that I have been following, all with an inspiring and transparent story.
Pink City Prints
To put it plainly, I am completely obsessed with Pink City Prints. Their clothes are all handmade, and their prints inspired by Jaipur, the Pink City. The cotton used is GOTS certified and every piece is made using the long-standing and historical techniques of the trade.
You can read more about it here: Pink City Prints
I'm personally lusting after their Retro Blush Savanna Dress for its pretty sleeves and delicate print.
MolbyTheLabel
Started and run by Karina Molby, MolbyTheLabel is making real waves in the slow-fashion market. The story behind the brand, together with its gingham prints and bright, happy colourways make it a movement that you want to be a part of, and the perfect addition to any wardrobe. Even better, Molby uses its deadstock fabrics to create matching accessories to its designs to prevent waste.
The demand for Molby dresses has grown so much that Karina has employed five other seamstresses to help her, with every design selling out in a matter of minutes on the weekly re-opening of her site.
I have recently invested in the Tilda Dress, and can't wait to wear it to a boozy brunch (please, Boris!) or picnic. I also have my eye on the Patty Dress and the Cath Dress.
Johanna Sands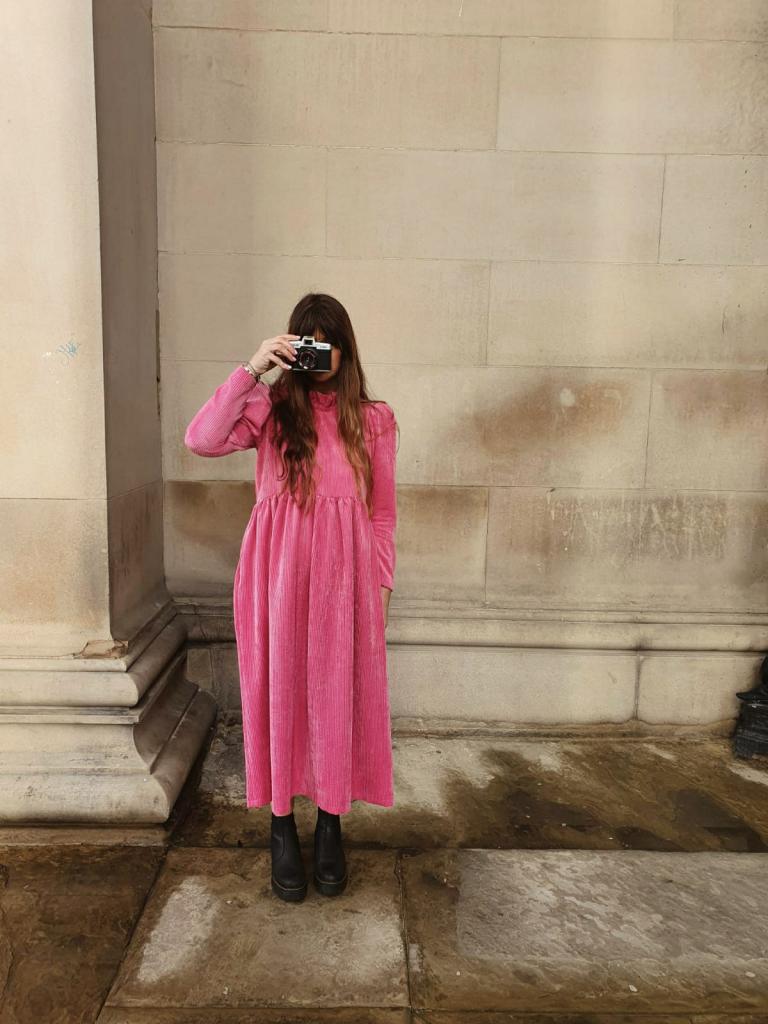 Inspired by her summers in Italy and the French Alps, Johanna Sands' pieces are simply stunning. Their classic styles are all designed by Johanna and hand-made by herself and her mother.
Each item is made from sustainable and high-quality fabrics with the idea that they are forever pieces.
The Rosa dress (pictured), comes in several fabrics/colours, and I love the Roma dress too, for its beautiful bow.
You can read all about Johanna Sands here.
Kitri Studio
Kitri Studio was founded by Haeni, a professional ballet dancer, and launched in 2017 on the premise of providing fun, colourful statement pieces at affordable prices. Based in London, Kitri Studio produces small collections, only replenishing stock on the most popular pieces. The brand has pledged to only use recycled fabrics, or more sustainable fabrics, by the end of 2021. A refreshingly open brand that acknowledges the need to do better in the fashion world, Kitri's collection has something for everyone. I love the Norah Dress from the recent Jessie Bush collaboration.
Daydress London
Daydress are due to be releasing their Spring edit shortly, and I have no doubt it will be every bit as beautiful as their previous collections.
Their hand-block printed cotton dresses, whose patterns are influenced by eighteenth century Indian and French prints, are all personally designed by Daydress' founder, Gabby, and produced in a small workshop in Jaipur. Daydress also works alongside the charity, WomenWeave, and other hand-weaving foundations to empower and protect women in the textile industry. Every dress is hand-cut to ensure that the way that the pattern sits on the dress is perfect, and this also prevents deadstock fabric and waste. A wonderful, ethical brand that is definitely worth checking out.
Love & Squalor
Another brand firmly bringing gingham back into the fashion fold is Love & Squalor. Their pieces are based around vintage work wear and designed to stand the test of time. They try to use every scrap of material to prevent any waste, and the fabrics they use are made from natural fibres. I love their Phoebe Dress dress for an easy, timeless wardrobe staple.
Also have a look at…
FaithRowanLeeves
April Meets October
Kemi Telford
Rixo
Justine Tabak
Damselfly London